Malabar Gold & Diamonds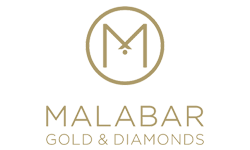 Ground Floor
10.30 AM to 10.30 PM
About
Malabar Gold & Diamonds is the flagship company of Malabar Group, a leading diversified Indian business conglomerate.
Established in 1993 in the Indian state of Kerala, Malabar Gold & Diamonds today has a strong retail network of over 250 outlets spread across 10 countries, 14 wholesale units in addition to offices, design centers and factories spread across India, Middle East, Far East & USA. With an annual turnover of $4.51 billion, the company currently ranks one among the largest jewellery retailers globally.
With 14 cluster manufacturing units in India and GCC – the company currently has 12 jewellery brands to cater to the discerning needs of customers. With headquarters in Kerala and branches across India, Middle East & Far East, Malabar Group is best known for its activities in the field of gold, diamonds, silver and lifestyle articles.
The group also operates MGD – Lifestyle Jewellery, a retail concept offering trendy and light weight jewellery that represents the independent and the modern woman through its designs and collections.
The group, owned by over 4,000 shareholders excels in quality products and services, has more than 13,000 professionals working for its continued success.
Malabar Gold & Diamonds also features an online store www.malabargoldanddiamonds.com providing customers the opportunity to purchase their favorite jewellery any time and on any day from the comfort of their home.
Connect with Store