India Palace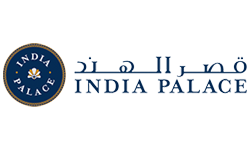 Second Floor Foodcourt
12.00 PM to 11.00 PM
About
India Palace is an exciting fine dining concept that provides authentic royal Mughlai delicacies served in a warm and sophisticated atmosphere. Started in 1997 at Abu Dhabi, the chain has expanded its fold over a decade with 12 popular restaurants spread across various emirates of the UAE.
India Palace is unique in more than one aspect. This authentic heritage dining concept, evolved after meticulous research and innovations is a true paradise of gourmets. Beyond the excellence in food and ambience, the restaurant upholds its commitment to provide paramount hospitality that surpasses the expectations of the customers.
The menu has a wide array of intricately cooked food and beverages, which is a combination of ancient culinary secrets, exotic flavours and expertise of experienced master chefs. The classic biriyanis, succulent kebabs, delicious curries replicate the exuberance the Mughal grandeur.
The ambience is set with the traditional architecture of North Western India creating the same finesse and grandeur of the erstwhile Mughal royalty. The presence of live bangle making and instrumental music at the outlets enhances the dining experience.
India Palace RAK Mall received the prestigious Best Service Performance Outlet Award for practicing and exceeding the service standards prescribed in the Dubai Service Excellence Scheme (DSES). The Dubai Service Excellence Scheme, an initiative by the Department of Economic Development promotes excellence in customer service quality in the private sector. The award is to recognize the ultimate achievement in service excellence.
The India Palace restaurant is also the recipient of the Dubai Human Development Appreciation Award (DHDAA) - 2020 and the Dubai Quality Appreciation Award in 2019 with the distinction of being the first restaurant group to receive the award. The award was accorded with the Quality Appreciation Certification from Sheikh Khalifa Excellence Award in 2018 and the Dubai Service Excellence Scheme Award in 2015, 16, 17, 18 and 2020 as well. In 2020 India Palace became the first ever restaurant to achieve the DSES in Hospitality and Entertainment Sector with an outstanding score of 102 points.